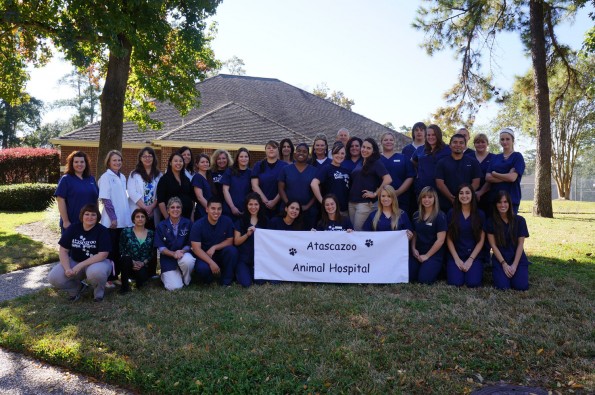 Thank you for choosing Atascazoo Animal Hospital! Atascazoo Animal Hospital is a full-service veterinary hospital located in Humble, Texas. Your pet receives comprehensive veterinary care at our hospital, including wellness exams, vaccinations, veterinary surgery, radiology, ultrasound, and pet dental care.
Atascazoo Animal Hospital also maintains a full-service pet boarding facility for dogs and cats.
We know your pet is an important member of your family. When he or she is sick, you want only the best care for your faithful companion. It is our goal to care for your best friend in a compassionate, cheerful environment.
Through teamwork and ongoing staff training, we provide excellent customer service using state-of-the-art care and a focus on client education.
Your pet has access to the latest veterinary medicine and technology at Atascazoo Animal Hospital. From advanced diagnostic equipment to the latest surgical techniques, including orthopedic and soft-tissue surgeries, your pet receives complete, compassionate veterinary care.
In order to provide superior diagnostic imaging for our clients and their pets, we have partnered with Dr. Oscar Ramirez, a board-certified veterinary radiologist, for radiology and ultrasound examinations at our hospital.
Atascazoo Animal Hospital provides complete veterinary care for dogs, cats, birds and ferrets. We believe preventive care is essential to your pet's health and offer comprehensive wellness examinations and a complete vaccination protocol.
As pet owners ourselves, we understand the special bond you share with your pet. We strive to strengthen and preserve that bond by offering you and your pet the best veterinary medical care possible.
Community Outreach
Atascazoo Animal Hospital is an active member of the Humble, TX community. We work with a number of pet rescue groups and animal welfare societies, including Golden Beginnings Pet Rescue, the Australian Shepherd Rescue, Volunteers for Animals Protection and Greyhound Rescue.
American Animal Hospital Association Accreditation
Atascazoo Animal Hospital is an American Animal Hospital Association-accredited veterinary hospital. What does this mean for you and your pet? Simply put, AAHA-accreditation means your pet receives the absolute best in veterinary medical care.
We not only meet the AAHA's rigorous standards for accreditation in areas such as customer service and medical care – we exceed them. Only a small percentage of veterinary hospitals in the country achieve this designation. AAHA-accreditation is another example of our commitment to your pet's health.