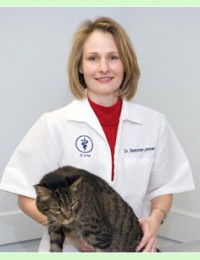 General practitioner Dr. Gretchen Jensen has cared for pets at Atascazoo Animal Hospital since 1994. A native of Katy, Texas, Dr. Jensen has had a life-long love of animals. She finds strengthening the bond between people and their pets through veterinary medicine to be very rewarding.
She attended Texas A&M University and received her Bachelor's Degree in Animal Science in 1990 and her Bachelor's Degree in Veterinary Science in 1992. She continued her veterinary education at Texas A&M College of Veterinary Medicine and was awarded her Doctorate of Veterinary Medicine in 1994.
Dr. Jensen has many professional interests but she is most interested in educating clients about the importance of preventive medicine and pet over-population. She is a member of the Texas Veterinary Medical Association, the American Veterinary Medical Association and the American Animal Hospital Association. Dr. Jensen stays on the cutting edge of veterinary medicine by receiving more than 50 hours of continuing education each year.
Dr. Jensen and her husband, Jim, are the proud parents of two daughters, Alison and Camille. Outside the hospital, Dr. Jensen enjoys gardening, hiking, camping with her family and attending her children's activities.