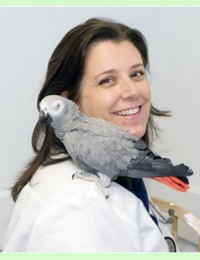 Native to Round Rock, Texas, Dr. Heather Madigan has cared for pets at Atascazoo Animal Hospital as an associate veterinarian since 2001. She loves animals and enjoys building relationships with all the pets that come into the hospital.
Dr. Madigan studied Marine Biology at Texas A&M University and received her Bachelor's Degree in 1991. She continued her veterinary education at Texas A&M and was awarded her Doctorate of Veterinary Medicine in 2001.
Active in many professional organizations, Dr. Madigan is a member of the Texas Veterinary Medical Association, the Texas Academy of Veterinary Practice and the American Veterinary Medical Association. Locally, she is a member of the Harris County Veterinary Medical Association.
Dr. Madigan loves the outdoors and enjoys swimming, camping, hiking and kayaking in her spare time. She and her husband, Tom, are the proud parents of two children, Ciara and Caleb. The family also includes two cats, Squirmer and Petal, and an African Grey parrot called Francis.