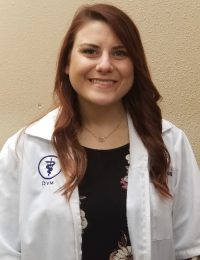 Dr. Robin Jones is our newestteam member as she recently graduated from Texas A&M College of VeterinaryMedicine. She worked as a technician with us throughout her four years inveterinary school.
Born and raised in NewOrleans, Louisiana she decided she would become a veterinarian at the age of12. She enjoys volunteering in her free time at spay and neuter clinics.
She attended NorthwesternState University and received her Bachelor's Degree in Liberal Arts with aconcentration in Scientific Inquiry in 2013. She was then awarded her doctoratein Veterinary Medicine at the Texas A&M University College of VeterinaryMedicine in 2017.
She is an active member of theTexas Veterinary Medical Association, the American Veterinary MedicalAssociation, and the American Animal Hospital Association.
Dr. Jones and her husband,Matthew Walters are the proud parents of two dogs, Sneakers, a 5 year oldBeagle/Rat Terrier mix and Gumbo, an 8 month old Pit Bull mix. She rescuedGumbo during her second week as a veterinarian at Atascazoo Animal Hospital. Inher free time, she enjoys traveling, hiking, and kayaking.