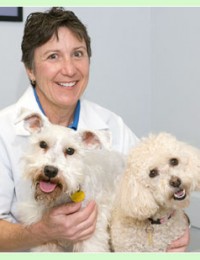 Dr. Sharon Kiker-Henderson has retired. We may get to see her once in a while for relief work. However, she is no longer available for daily appointments or surgery. She will be missed.
A general practitioner at Atascazoo Animal Hospital, Dr. Sharon Kiker-Henderson has cared for pets here since 1985. She has always loved animals and found veterinary medicine to be the perfect match for her interest in science and her love of pets. She likes educating clients on how best to care for their pets and she finds it rewarding to see pets return to good health after visiting the hospital.
Dr. Kiker-Henderson's father was in the military and she was raised all over the country. After graduating from high school in Hawaii, she came to Texas and attended Texas A&M University, where she received her Bachelor's Degree in Biomedical Science in 1978. She continued her education at Texas A&M University College of Veterinary Medicine and was awarded her Doctorate of Veterinary Medicine in 1979.
Dr. Kiker-Henderson enjoys being a small animal general practitioner because of all the interesting cases she sees. She has a special interest in animal behavior. Dr. Kiker-Henderson is a member of a number of professional organizations, including the American Veterinary Medical Association and the American Animal Hospital Association. She is a lifetime member of the Texas Veterinary Medical Association.
She and her husband, Don, are the proud parents of two adult sons, Joel and Neil. The family also includes two rescue dogs, a Schnauzer named Hogan and a Poodle named Splash. Dr. Kiker-Henderson's furry- and feathered-family members also include Toby, a cat who appeared in her neighbor's garden more than 10 years ago; Petie, a cockatiel; and Jack, a goldfish.
In her spare time, Dr. Kiker-Henderson enjoys playing tennis and jet skiing on the lake. She loves being outdoors and spending time with her family and friends.