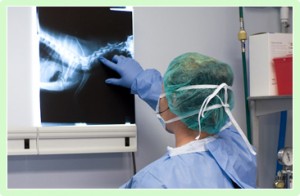 In some cases, surgery is the best or only option for your pet's injury or disease. Your pet is your best friend and he or she deserves the best surgical care possible. Your pet's safety and comfort during surgery are our first priority at Atascazoo Animal Hospital. We utilize the latest veterinary surgical techniques and equipment as part of every surgery. From spay and neuter procedures to advanced soft-tissue and orthopedic surgeries, our veterinarians and veterinary technicians are able to meet your pet's surgical care needs.
Surgical Capabilities
Whether your pet requires a routine spay or neuter procedure or a more advanced abdominal or orthopedic procedure, Atascazoo Animal Hospital can help. Our advanced surgical suite is equipped to perform a number of soft tissue surgical procedures, including gastrointestinal procedures, tumor removals, and more. We are also one of the few veterinary hospitals in the area capable of performing advanced orthopedic procedures, including bone plating, patella luxation repair, femoral head and neck repair and cruciate injury repair. These procedures are commonly referred to university hospitals or veterinary referral centers; however, our advanced capabilities give your pet access to these surgical procedures close to home.
Safety and Comfort
We strive to make every surgical procedure as comfortable as possible for your pet. All surgical patients undergo extensive pre-surgical screening in order to detect any potential complications and develop an anesthetic protocol that is specific for your pet. State-of-the-art surgical monitoring equipment is used to track your pet's vital signs during all surgical procedures and a veterinary technician is on hand to make sure your pet is comfortable and safe.
Pain management is an important part of our intra- and post-operative procedures. Reducing pain following surgery allows your pet to recover more quickly. All surgical patients receive pain medication following surgery. At discharge, we may also send additional pain medication home with you.