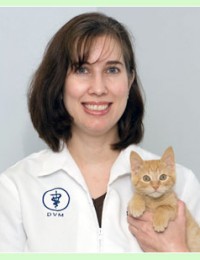 A general veterinary practitioner, Dr. Deborah Aguila has cared for pets at Atascazoo Animal Hospital since 2007. A native Texan, Dr. Aguila enjoys building relationships with the clients and pets that come into the hospital. She has always loved animals, and she cannot think of a more rewarding career than veterinary medicine.
During her undergraduate years at Louisiana State University, Dr. Aguila studied finance and received her Bachelor's degree in 2002. She continued her veterinary education at University of Georgia College of Veterinary Medicine and was awarded her Doctorate of Veterinary Medicine in 2006. Following veterinary school, Dr. Aguila completed an internship in animal medicine and surgery at the prestigious Animal Medical Center in New York City.
Dr. Aguila particularly enjoys working with internal medicine cases. Oncology and pathology are just some of her other areas of professional interest.
When she's not busy caring for pets at the hospital, Dr. Aguila enjoys a number of creative pursuits. Playing the piano and going to the theatre are among her many pastimes. She enjoys the companionship of her three cats, Teddy, Nikko, and Josie, and her dog, Buster.