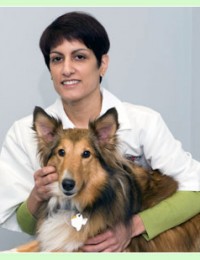 Dr. Renee Batra has cared for pets at Atascazoo Animal Hospital since 1991. Dr. Batra was born in Beavercreek, Ohio but grew up in Plano, Texas. She loves animals and considers it an honor to care for the pets that come into the hospital each day.
Dr. Batra received her Bachelor's Degree in Biomedical Science from Texas A&M University in 1989 and continued her veterinary education at Texas A&M University College of Veterinary Medicine. She was awarded her Doctorate of Veterinary Medicine in 1991.
Cases involving internal medicine and dermatology are of special interest to Dr. Batra. She is an active member of many professional organizations, including the Texas Veterinary Medical Association, the American Veterinary Medical Association and the American Animal Hospital Association.
When she comes home, Dr. Batra's cats, Milo and Malcolm, and dogs Lindy and Megan are always there to greet her. She enjoys reading, drawing and painting, and playing classical guitar in her spare time. She also practices Ashtanga yoga.